UN war crimes court jails ex-Yugoslav army chief

Radio Netherlands Worldwide published on 06/09/2011 at 11:58 AM

A UN war crimes court Tuesday sentenced ex-Yugoslav army chief Momcilo Perisic to 27 years in jail for war crimes and crimes against humanity including for his role in the 1995 Srebrenica massacre.

"For these crimes the chamber by majority sentences you to a single term of 27 years imprisonment", Judge Bakone Moloto told Perisic, the highest ranking member of the former Yugoslav army, in a hearing before the International Criminal Tribunal for the former Yugoslavia in the Hague (ICTY).

ICTY press release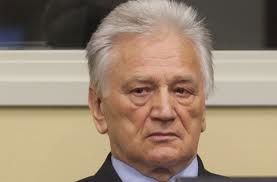 Trial Chamber I of the International Criminal Tribunal for the former Yugoslavia today convicted Momčilo Perišić, a former Chief of the General Staff of the Yugoslav Army, for crimes against humanity and war crimes committed in Bosnia and Herzegovina and Croatia and sentenced him to 27 years of imprisonment.

Perišić, the most senior officer and Chief of the General Staff of the Yugoslav Army (VJ) from 26 August 1993 to 24 November 1998, was found guilty by majority in the Trial Chamber, Judge Moloto dissenting, of aiding and abetting murders, inhumane acts, persecutions on political, racial or religious grounds, and attacks on civilians in Sarajevo and Srebrenica. He was also found guilty, by majority of Judges, Judge Moloto dissenting, of failing to punish his subordinates for their crimes of murder, attacks on civilians and injuring and wounding civilians during the rocket attacks on Zagreb on 2 and 3 May 1995. Perišić was unanimously acquitted of charges of aiding and abetting extermination as a crime against humanity in Srebrenica and of command responsibility in relation to crimes in Sarajevo and Srebrenica.

Today's judgment is the first handed down by the Tribunal in a case against an official of the Federal Republic of Yugoslavia for crimes committed in Bosnia and Herzegovina.

The Trial Chamber found that General Perišić oversaw the Yugoslav Army's provision of extensive logistical assistance to the Army of Republika Srpska (VRS) and the Army of Serbian Krajina (SVK), the self proclaimed Croatian Serb entity, which notably included vast quantities of infantry and artillery ammunition, fuel, spare parts, training and technical assistance. Such assistance "became more centralised, structured and coordinated during General Perišić's tenure" - Judge Bakone Justice Moloto, Presiding, said reading the Judgment.

General Perišić also proposed and implemented the idea to create Personnel Centres to maintain the status of military officers of the Yugoslav Army for those who serve in the VRS (30th Personnel Centre) and SVK (40th Personnel Centre).

In relation to the crimes in Bosnia and Herzegovina, the Judgment states that "the VRS regularly made no distinction between civilian and military targets. In fact, it targeted Bosnian Muslim civilians as a matter of course". It further adds that "the crimes charged in this case were not perpetrated by rogue soldiers acting independently. Rather, they were part of a lengthy campaign overseen by top VRS officers on the Yugoslav Army's payroll, including General Mladić." Besides General Mladić, members of the 30th Personnel Centre included high-ranking officers who have been convicted by the Tribunal's Trial and Appeals Chambers for crimes in Sarajevo (Stanislav Galić and Dragomir Milošević), and for crimes in Srebrenica (namely Milan Gvero, Radivoje Miletić, Ljubiša Beara, Radislav Krstić, Vujadin Popović, Vinko Pandurević, and Dragan Obrenović).