Portrait of Reichsleiter Martin Bormann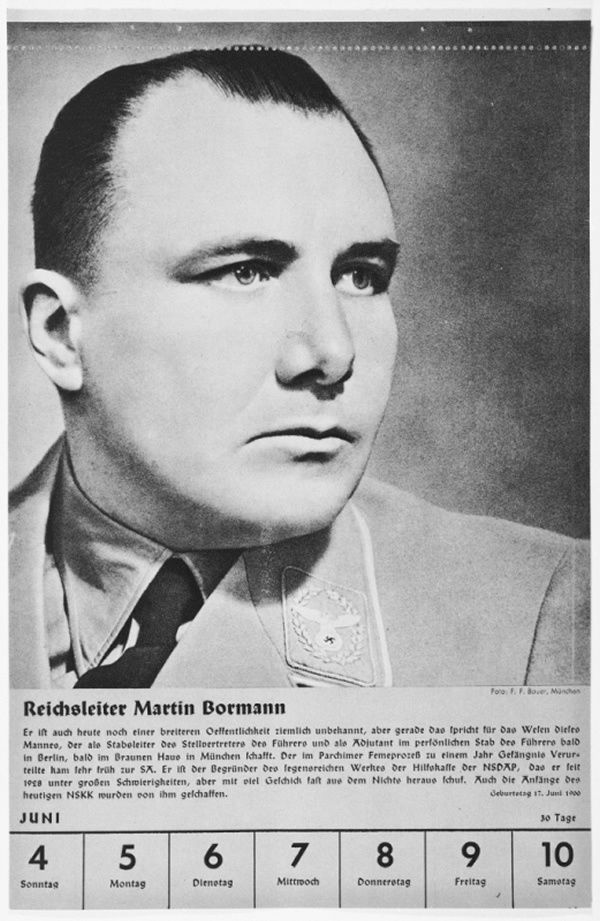 Record Type: Photograph
Photograph #: 45263
Caption: Portrait of Reichsleiter Martin Bormann.
One of a collection of portraits included in a 1939 calendar of Nazi officials.
Biography: Martin Bormann (1900-1945) was chief of the party chancellery and Hitler's official secretary. After serving in World War I, he joined the Freikorps. During this period, Bormann was arrested and imprisoned for his involvement in the murder of one of his former teachers. In 1927 he joined the NSDAP and quickly advanced through the ranks because of his organizational skill. He served as a regional press manager, Gauleiter, and chief business manager in Thuringia. Bormann's activity attracted Hitler's attention, and he was appointed chief of staff to deputy NSDAP leader, Rudolf Hess. As he drew closer to Hitler, Bormann accumulated more power. He became the NSDAP deputy to the Reichstag and soon took over Hitler's financial affairs. After Hess' escape to England in 1941, Bormann became chief of the party chancellery. Hitler's increasing interest in managing military matters left Bormann to manage domestic affairs. In 1943, Bormann became Hitler's official secretary and virtually controlled access to the Fuehrer, allowing him to filter the information Hitler heard. By war's end, Hitler was convinced that Bormann was his only faithful servant, calling him "my most loyal party comrade." Having retreated with Hitler and his inner circle into the bunker in Berlin, he witnessed the burning of the bodies of Hitler and Eva Braun, before fleeing to evade capture by the Allies. The International Military Tribunal at Nuremberg sentenced him to death in absentia in 1946. It was only in 1973 that he was declared dead by the West German government on the basis of a skeleton found in Berlin, not far from the site of Hitler's bunker. However, reports of his survival in South America continued for many years.
[Source: Zentner, Christian. "Encyclopedia of the Third Reich." MacMillan, 1991.]

Date: 1939
Locale: Germany
Photo Designation: NAZI OFFICIALS/PERSONALITIES OF THE THIRD REICH -- Gauleiter Calendar Portraits
Keyword: BORMANN, MARTIN, CALENDARS, CLOSE-UPS, NAZI OFFICIALS
Photo Source: United States Holocaust Memorial Museum
Copyright: United States Holocaust Memorial Museum
Provenance: Geoffrey Giles
Photo Credit: United States Holocaust Memorial Museum, courtesy of Geoffrey Giles