Portrait of Gauleiter Julius Streicher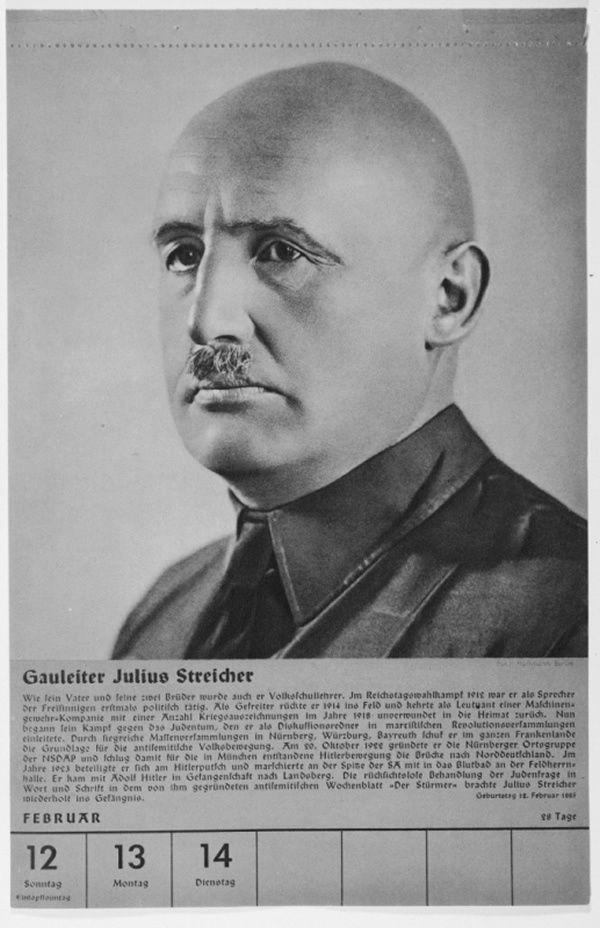 Record Type: Photograph
Photograph #: 45238
Caption: Portrait of Gauleiter Julius Streicher.
One of a collection of portraits included in a 1939 calendar of Nazi officials.
Biography: Julius Streicher (1885-1946), German politician and publisher of the radical, anti-Semitic newspaper, Der Stuermer (The Militant). Prior to World War I, Streicher was an elementary school teacher. After the war he was a founding member of the German Social Party, which merged with the NSDAP in 1921. Two years later, he founded Der Stuermer, which he used to instill anti-Jewish feelings amongst the German people. In 1925 Streicher was made Gauleiter of Franconia. His membership in the NSDAP, coupled with his virulent anti-Semitism, forced Streicher out of teaching, leaving him to devote his full attention to politics and Der Stuermer. In 1929 he was elected to the Bavarian legislature and in 1933, to the Reichstag. Following the Nazi seizure of power, Streicher's Jew baiting became a handicap to the party and by 1940, he had been dismissed from all National Socialist posts. After the war he was tried before the International Military Tribunal at Nuremberg, convicted of crimes against humanity and hanged.
[Source: Zentner, Christian. "Encyclopedia of the Third Reich." MacMillan, 1991.]

Date: 1939
Locale: Germany
Photo Designation: NAZI OFFICIALS/PERSONALITIES OF THE THIRD REICH -- Gauleiter Calendar Portraits
Keyword: CALENDARS, CLOSE-UPS, NAZI OFFICIALS, STREICHER, JULIUS
Photo Source: United States Holocaust Memorial Museum
Copyright: United States Holocaust Memorial Museum
Provenance: Geoffrey Giles
Photo Credit: United States Holocaust Memorial Museum, courtesy of Geoffrey Giles