Portrait of Gauleiter Hinrich Lohse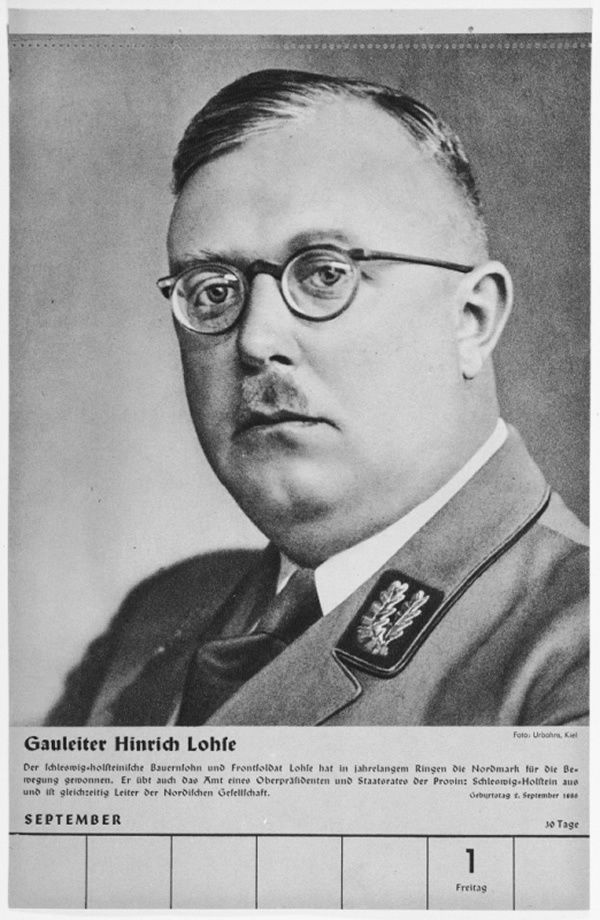 Record Type: Photograph
Photograph #: 45284
Caption: Portrait of Gauleiter Hinrich Lohse.
One of a collection of portraits included in a 1939 calendar of Nazi officials.
Biography: Hinrich Lohse (1896-1964) acted as Reich Commissioner for the Baltic States and White Russia during German occupation. Lohse was born in Muehlenbarbek on September 2, 1896 and was named Gauleiter of Schleswig-Holstein in 1925. After November 12, 1933, he represented the electoral district of Schleswig-Holstein as a Nazi member of the Reichstag. Lohse went on to become Oberprasident of Schleswig-Holstein and Prussian State Councilor from 1933. He was named SA-Gruppenfuhrer in February of 1934. From 1941 to 1944 he served as Reich Kommissar, Ostland, while the Final Solution was being carried out in the Baltic States and White Russia. Although Lohse strictly rationed food in the ghettos he directed, he was disturbed by the indiscriminate and labor hampering mass executions in the ghettos. Lohse was no one to challenge Himmler's police. In 1948, Lohse was sentenced to ten years of penal servitude by a British court. By February of 1951 he was released because of his failing health and began drawing a pension from the local authorities in Schleswig-Holstein. The Bonn government finally complied with parliamentary pressure and denied his pension on the basis that Lohse was an enemy of democracy during his tenure in the area. He died on February 25, 1964 in the city of his birth, Muehlenbarbek in Schleswig-Holstein.
[Source: Wistrich, Robert. "Who's Who in Nazi Germany." Routledge, 1995.]

Date: 1939
Locale: Germany
Photo Designation: NAZI OFFICIALS/PERSONALITIES OF THE THIRD REICH -- Gauleiter Calendar Portraits
Keyword: ABADI (MARCEL) NETWORK, CALENDARS, CLOSE-UPS, LOHSE, HINRICH, NAZI OFFICIALS
Photo Source: United States Holocaust Memorial Museum
Copyright: United States Holocaust Memorial Museum
Provenance: Geoffrey Giles
Photo Credit: United States Holocaust Memorial Museum, courtesy of Geoffrey Giles