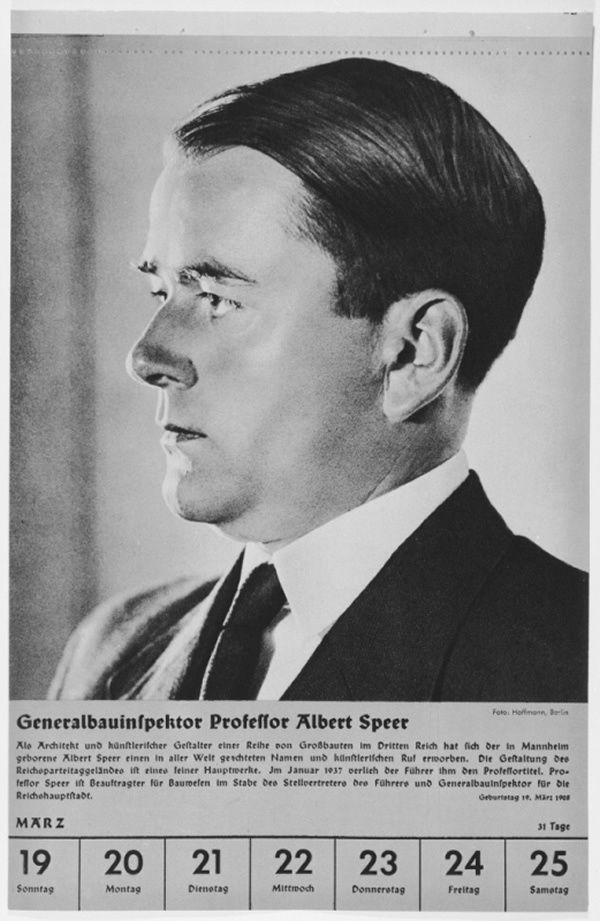 Record Type: Photograph
Photograph #: 45255
Caption: Portrait of Albert Speer.
One of a collection of portraits included in a 1939 calendar of Nazi officials.
Biography: Albert Speer (1905-1981), German politician and architect. Speer, a licensed engineer and the son of a leading architect in Mannheim, joined the NSDAP in 1931 after being mesmerized by a speech delivered by Hitler at the University of Berlin. Speer soon developed a close personal relationship with Hitler. In 1932 Speer received his first architectural commissions from the NSDAP and after 1933 was responsible for the designs and decorations used in the major Nazi party rallies. Hitler regarded him as an architect of genius and gave him a stream of building projects, including the new Reich Chancellery in Berlin. In 1937 he was appointed Inspector-General of the Reich, responsible for rebuilding Berlin and other cities in the neo-classical, monumental style. After serving in a number of official posts, Speer succeeded Fritz Todt as Minister of Armaments and War Production in 1942. In this capacity he greatly expanded German war production capacity during the final three years of the Third Reich in spite of massive Allied bombing attacks. In the closing stage of the war Speer became increasingly disillusioned with Hitler's policy of "victory or annihilation" and tried to protect German industry from the Fuehrer's orders to destroy all areas threatened by the advancing Allies. In contrast to other Nazi leaders who were brought to trial at Nuremberg, Speer acknowledged the guilt of the regime and his personal responsibility for the use of slave labor in German industry. He was sentenced to twenty years imprisonment, during which he wrote a dispassionate account of his experience during the Third Reich called the "Spandau Diaries."
[Source: Wistrich, Robert. "Who's Who in Nazi Germany." MacMillan, 1982.]

Date: 1939
Locale: Germany
Photo Designation: NAZI OFFICIALS/PERSONALITIES OF THE THIRD REICH -- Gauleiter Calendar Portraits
Keyword: CALENDARS, CLOSE-UPS, NAZI OFFICIALS, SPEER, ALBERT
Photo Source: United States Holocaust Memorial Museum
Copyright: United States Holocaust Memorial Museum
Provenance: Geoffrey Giles
Photo Credit: United States Holocaust Memorial Museum, courtesy of Geoffrey Giles